General Tab
The General tab can be found under CATIA's Tools

Options

General.
Under this tab, under the "Data Save" section, the user can find the following option:
Automatic backup every ... minutes
If this option is selected, it means that you can specify a save frequency other than the default frequency (30 minutes). This option is activated by default.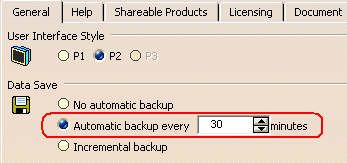 The purpose of this option is to automatically save your data to allow you to recover it after a crash. When a crash occurs, and you restart your session, the Warm Start dialog box asks the following question: Do you want to recover previous session data?
•If you choose "Yes", your documents will be recovered in the state in which they were last saved by the automatic save option. Any data created after the last automatic save will not be restored.
•If you choose "No", a new document will be created when opening the session.
You may encounter, when working on a document, a dialog box containing the following message: Command interrupted.
When this occurs, we recommend that you click OK to continue (a check is launched on your data in the background). Then, you should immediately save your document(s) and exit then restart your session.
It is also recommended to use the same method if a dialog box appears containing the message: This handler is null. By default, this option is activated.
Licensing Tab
The Licensing tab can be found under CATIA's Tools

Options

General.
Under this tab, you can find the "List of Available Configurations or Products".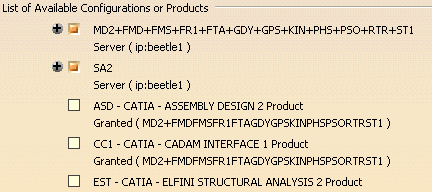 The role of this list is to allow you to reserve licenses before using these products. You will not be able to work with any Version 5 products unless you have first reserved the corresponding licenses.
If you are using network licensing, selecting this tab contacts any license servers to update the list of available configurations and products.
You must select at least one configuration license.
Documented topics found under the General tab: